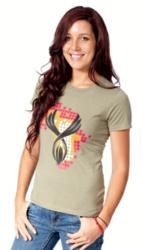 In line with its tradition of supporting worthy causes, Pay It Forward has released "PIF Africa", a cause t-shirt intended to raise funds and awareness for the needs of Africa. In partnership with organizations that already have established presence in Africa, PIF, together with their customers, hopes to have an impact to positive changes in the region.
PIF is able to do this by donating 25% of proceeds from their t-shirt sales to one of the twelve non-profit organizations that it represents. Customers buying their shirts can choose which among these organizations to donate to, thus allowing them to give to a cause that they closely associate themselves with. These organizations are all known for their solid financial track record.
The new PIF shirt features the company logo in a yellow and blue variation with watermarked background on the canvas of a white crew neck tee. It is made of combed cotton and jersey material, and is of tailored design fit. The unique design is highlighted by the shirt's olive green color.
According to Jana, PIF's Operations Director, the shirts are designed to be a show stopper so that people would want to ask about it and what it means, thus raising awareness for causes that supports African women and children. For its wearer, the shirt also represents how they helped change the world.